AMD Project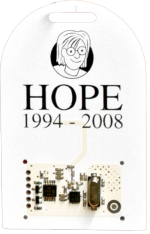 This weekend, the Attendee Meta-Data (AMD) project will introduce a new location-aware social networking system to track and bring together hackers based on a huge array of matching interests. Conference goers will be given unprecedented ability to connect with new people, find the talks they're most interested in attending, see what's happening and where in real time, and experience and talk about the way RFID technology is changing the world.
Attendees receive RFID badges that uniquely identify and track them across the conference space. Location information is incredibly accurate—visitors' exact locations and movements are monitored in real time, and used to drive revolutionary social networking features which completely change the conference experience.
The AMD social networking site lets visitors "tag" themselves based on a diverse set of interests. Old-school hackers, network security experts, cryptographers, political activists, law geeks, lockpickers, reverse engineers, bloggers, privacy advocates, and far more—visitors can label themselves with multiple interests, to become discoverable by fellow visitors from around the world with similar interests, in the same room or across the building. Attendees can then use email or text messages to "ping" the people they discover on the site—new contacts and old friends alike.
The AMD site connects visitors to the many talks and events occurring during the conference, too. The same interests tags are used to highlight events and alert visitors to something they might otherwise miss—a vital feature for such a large conference. Attendees can also use the interactive schedule to select events they want to attend, and receive alerts before those events begin.
The site also provides visualizations of activity on the conference floors. Website users can watch the real time positions and movements of people across the Mezzanine, revealing the group dynamics of a massive number of people and instantly identifying the hotspots. Users can also click on any conference room to see its current event, speakers, and attendees.
Visitors are further encouraged to connect and participate through interactive games. The LIFE:CLOCK game scores visitors based on which events they attend and for how long—or if they do nothing, their clock slowly ticks away towards zero.
Although the AMD Project offers a radical new way to experience The Last HOPE, participation is voluntary. And attendees who do participate can choose to reveal as much or as little personal information as they desire. Users can see other users' handles, but contact information is not divulged until users send or reply to pings. Unwanted pings can be ignored, and privacy preserved.
The anonymized location tracking and user information will be released after the conclusion of The Last HOPE, making a massive amount of information about the behavior of conference attendees available to researchers, hackers, conference presenters and organizers, and the just plain curious. The AMD Project website's source will be released under the GPL, encouraging other conferences to develop and use this exciting new system
Background
The AMD Project, in classic hacker fashion, is building on the work of the OpenBeacon group, including Milosch and Brita Meriac from project Blinkenlights, who developed the hardware that made this project possible. The badges, commissioned by Mitch Altman, inventor of TV-B-Gone, expanded on equipment from the Sputnik project, an experiment in RFID tracking at the 24th Chaos Communication Congress held in Berlin last year. By releasing tracking information and source code, the AMD Project will encourage others to, in turn, build upon the revolutionary work they have done.
RFID technology is now ubiquitous. RFID tags are used to track people and their belongings, monitor their behavior, make payments on major transit systems, manage store inventories, and far more. The AMD Project challenges HOPE attendees to think about the ways this technology is being used and how it is changing the world, for better or worse.
The Last HOPE is the seventh conference in the historic Hackers On Planet Earth series which began in 1994, and has been held at the Hotel Pennsylvania in New York City ever since. This year's conference is being held July 18-20, 2008. HOPE is sponsored by the legendary magazine
2600: The Hacker Quarterly.
For further information, contact the AMD team at
projects@hope.net
.
http://www.thelasthope.org/
http://www.openbeacon.org/
Share on Facebook