'The Best Of 2600' To Be Released At Conference
Posted 11 Jun 2008 23:57:19 UTC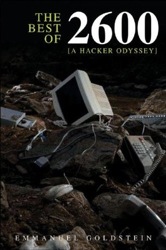 As announced on "Off The Hook" on May 28, a long-awaited book ("The Best of 2600: A Hacker Odyssey") detailing the history of 2600 and including over 900 pages of of material will be released this summer, just in time for the HOPE conference.
Since 1984, 2600 Magazine has been publishing all sorts of information and controversial material involving hackers and their perception in mainstream culture. We've seen our own culture grow and flourish and we've witnessed the dramatic change in technology that has occurred in the last quarter century.
Everything from the breaking up of the Bell System to the very first days of the Internet is included in this book, all told from the hacker perspective. The stories of Kevin Mitnick, Bernie S., and Phiber Optik are each related in ways the mainstream media could never accomplish. In addition, the writings of these three (along with so many others) are included here.
The book is divided by decade into three sections, with each section further divided by subject matter including hacker stories and adventures, corporate history, pop culture, lawsuits, retail hacking, raids by the authorities, and all kinds of fun toys that hackers have played with over the years. Each subject has an introduction that ties everything together and brings all of these developments into focus.
"The Best of 2600" will be an unusual and essential historical relic, capturing a dramatically changing society and revealing the world of hackers as the constant that helps to inspire new developments and encourage overall experimentation and mischief.

Stumble It!
Share on Facebook